Home Lab and Hardware
Tuxedo Aura 15 Review - A Good Linux Laptop
A personal review for the Tuxedo Aura 15 from a long time Linux user and developers perspective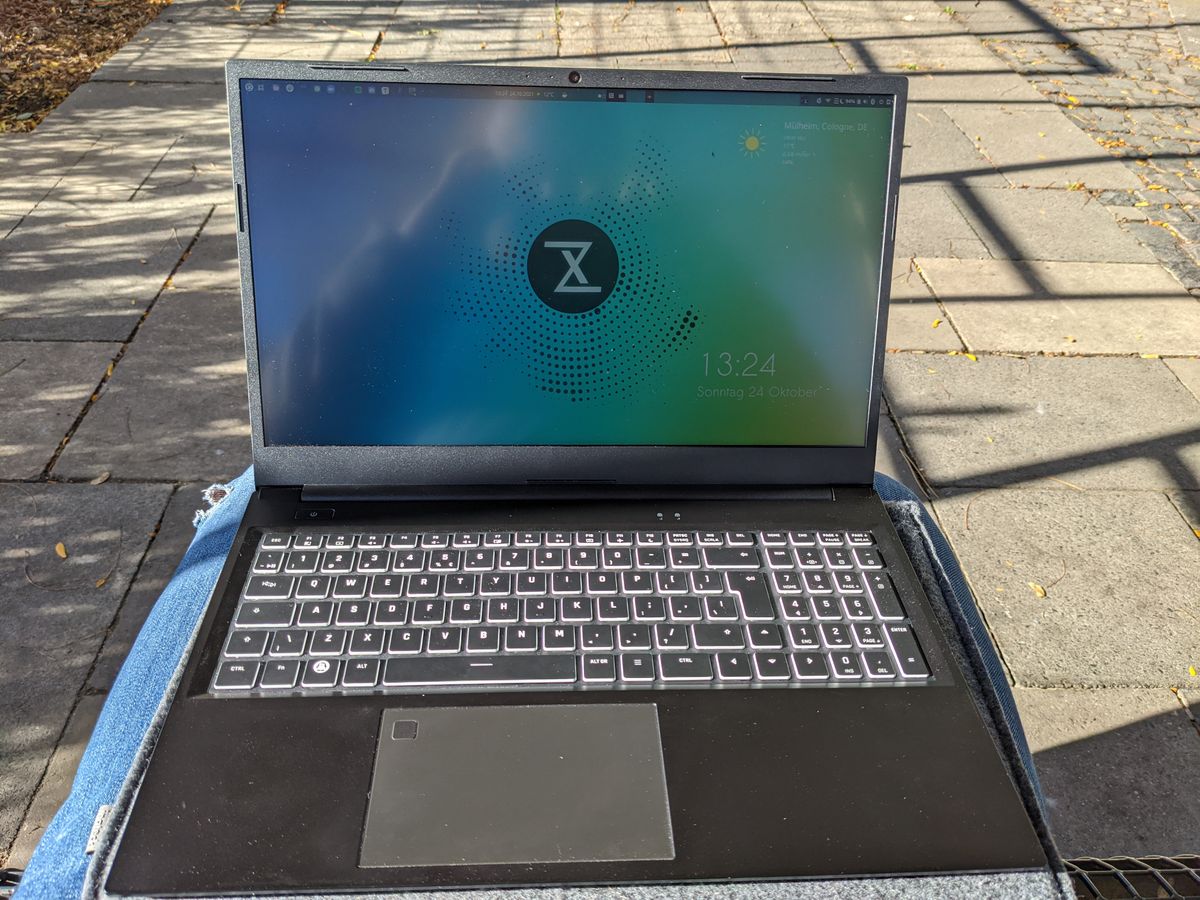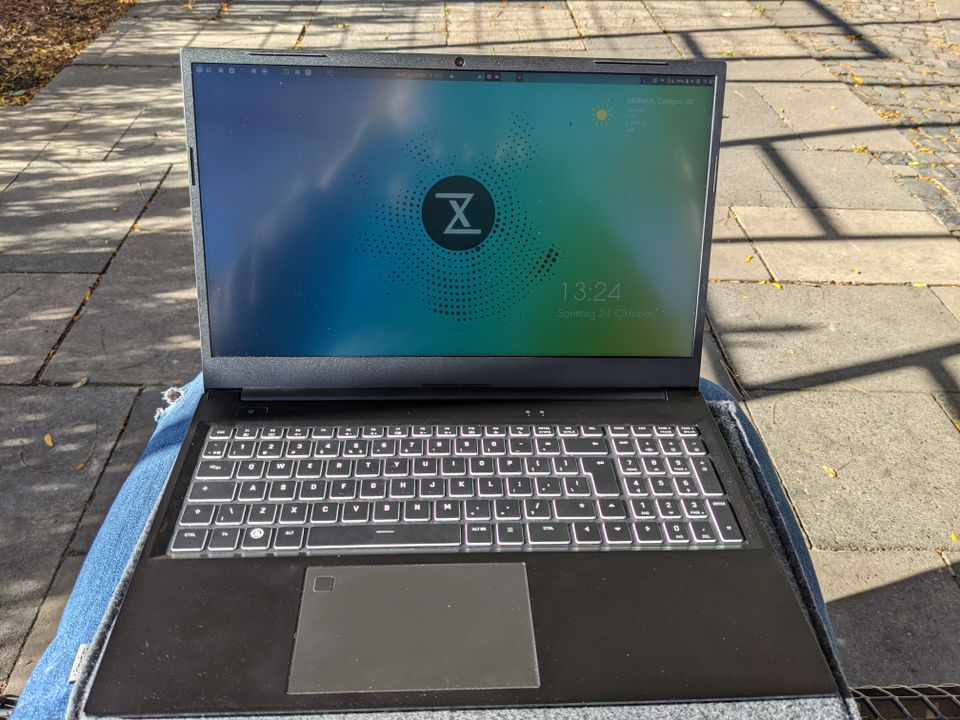 When I started at gridscale I got a Dell Latitude 5310. That was a bad Laptop for my use case. Your mileage may vary. I already did write about why here: Dell Latitude 5310 - bad performance on Linux
I then got the chance to choose my next Laptop myself and that is where the Tuxedo Aura 15 got a chance as a candidate.
During my time living with the problematic Dell, I had done some research already.
Around June 2020 Dell and Lenovo had announced official Linux support for some of their models.
But there was nothing I could find on their websites when these will arrive in Europe or Germany at all.
Then I was listening randomly to the Ubuntu podcast episode S13E11 – Inside out clothes.
There was someone from Lenovo who was working on Linux for their hardware and explained the difficulties.
So I guess the marketing department was too excited to get out the news and marched out a little early.
Also, we had the chip shortage just coming around the corner.
System76 was also on my list because I used their POP OS already on my Dell which I liked. The OS, not the laptop. Just to be clear. The Dell was still trash when used with Linux.
But since this is a work laptop we did not want to hassle with taxes and non-German grantees and repairs, etc.
Then I stumbled across Tuxedo. A small company in Augsburg Germany selling hardware with 100% Linux support. Interesting!
Choosing a Tuxedo model
I was in the lucky situation that the boss of my boss (fkr) did know some people at Tuxedo. Therefore we contacted them (19.04.2021) and ask them for a device for testing before we made the commitment with the purchase.
I contacted their support for a recommendation. Described my problem to them, what I do at work and what setup I have at home in means of connectivity, screens, etc.
Their suggestion at that time was the Tuxedo Aura 15 because I wanted to add 2 screens. An alternative was also the  TUXEDO InfinityBook Pro 14 - Gen6.
I decided on the AMD model because I was scared about another burning hot Intel CPU in a relatively small case. Even though the TUXEDO InfinityBook Pro 14 - Gen6 has a way better screen but again only 4 real cores compares to big fat 8 cores on AMD.
My Tuxedo Aura 15 order with specs
Here are my specs. I did not go just for the most expensive model because I did not need that. I choose reasonable parts whiteout cheeping out on things like storage capacity.
TUXEDO Aura 15 - Gen1
Display: Full-HD (1920 x 1080) IPS-Panel anti glare
2x16 GB (1x 16GB) 3200Mhz CL22 Samsung
Processor: AMD Ryzen 7 4700U (8x 2.0-4.1GHz Eight-Core, 8 Threads, 12 MB Cache, 15 W TDP)
Storage M.2 SSD: 500 GB Samsung 970 EVO Plus (NVMe PCIe)
Keyboard with TUX Super-Key with keyboard layout ENGLISH US ISO (EN-US international)
UMTS / LTE 4G: without UMTS / LTE Module
WLAN & Bluetooth: Intel Wi-Fi 6 AX200 & Bluetooth 5.1 (up to 2400Mbps)
OS Linux: TUXEDO_OS 20.04 LTS 64Bit (ENCRYPTED)
grantee: 24 months
Power adapter: EU | F C6
Case Logo: TUXEDO Logo
The cost was around 1079 Euros with tax included.
It is way cheaper now and you can have a look at the specs yourself here:
Tuxedo Aura15 Gen 1
Now I only had to wait a few months. Welcome to the global chip shortage and pandemic time :)
I got my laptop on 07.06.2021, almost 2 months. Not that bad for that time.
Review after 5 months
I feel sorry not to have written this way earlier. When I was talking to my boss about the laptop I also mentioned I would like to write a review on my blog.
I am sorry it took so long :P But hey, now you have a long-term review.
Tuxedo support
When you see the Tuxedo subreddit I saw a few people complaining about their support being super slow.
I do not have the same experience even though it was during the same time.
And please. Keep in mind people like to complain on the internet rather than give good feedback for such things.
They were pretty transparent in their newsletter about the situation. They had a huge amount of orders coming in which they never had before. Therefore support questions did rise as well.
It took some time to get the laptop but that was due to Covid and people buying laptops like crazy all over the places. Nothing the support can do much about.
Despite that, I just had a few questions which were answered in a decent time and their recommendation was good as well.
Tuxedo is also present on other media like some German hardware forums. I think they are doing a good job of getting the right information for their products out there.
Tuxedo OS
You can choose between a few different operating systems when you buy from Tuxedo. I chose Tuxedo OS encrypted because of the out-of-the-box support.
You will get a one-time encryption key, then you set up your own encryption password, and you are done with that part.
Tuxedo OS is just Ubuntu 20.04 with the Ubuntu budgie desktop environment, the tuxedo control center and some tuxedo packages to patch things, add support for function keys on the keyboard, etc.
I just wanted to have a supported OS. I am not a big fan of budgie but it works descent. I prefer gnome because I guess I am used to it. As long as I can open a search with the super key and open any app by typing I am almost always happy. I never see the desktop anyway and also do not have folders on them.
I would have opted for Ubuntu as well since that is what I have daily driven for the most part of my Linux desktop experience. It's nice not having to fiddle around with configs It just works.
Maybe this year will be the year of the Linux desktop? ;-)
Battery life and power
A 49 Wh battery with up to 6 hours of normal use says the sales page. I would say that is about right.
When writing this review in the park I was writing for about 2 hours and had around 50 % left. The screen was at about 70% brightness due to the sunlight. I guess you can have around 5-6 hours. This will depend on what you do.
The good thing is, you can turn off some cores and/or the clock speed in the Tuxedo Control Center in order to save some battery.
But keep in mind: Having a short time high clock speed to do a demanding task sometimes can have a better impact on the battery than throttling to a low clock speed. The CPU will then be on for a longer time than it would with a higher clock speed to finish the task. It is not a trivial topic, but putting off a few of those 8 cores might help with battery life.
Keyboard and trackpad
First of all, let's just mention that you can get all kinds of keyboard layouts here!
Linus from Linus Tech Tips did get a Tuxedo with a Wingdings layout:
But that is not a Tuxedo Aura 15. So let's get serious again.
I was fed up with the German layout and choose the ENGLISH US ISO (EN-US international).
I do not regret the change. Even though I had to print out the layout and tape it to my monitor for the first couple of weeks.
The keyboard is pleasant to type. I had a Lenovo Thinkpad x230i for a couple of years and this is pretty similar. I really like the typing experience.
Full size is also pretty nice but honestly, I do not need it. But hey if there is space better put int the num pad.
A keyboard backlight is a must these days in my opinion and that's what Tuxedo is offering you. You can even adjust the color of the light if you feel fancy!
Full sized keyboard with number pad
Mulit-colosr backlit keyboard, means that the writing on the keys have backlight! Brightness can be controlled and deactivated by special keys.
TUX super-key on all layouts!
Big clickpad (120 x 72 mm) with integrated buttons and multi-gesture- & scroll-function
The trackpad is fine. I am not a fan of trackpads missing dedicated mouse buttons. I never do push down the trackpad in order to click. I hate it. Just use touch or multitouch with 2 fingers for a right click.
Scrolling with 2 fingers works reliably and the size is pretty good as well.
The only bad thing I can say about the trackpad is the weird integrated fingerprint reader on the top left corner. It only comes in your way when you need to drag and drop something in that direction. It just happened a few times that is why I am not too concerned about it.
What I do not get though is: Why to build in the fingerprint reader, when it does not even work with Tuxedo OS at all! To be fair, it is even not advertised on their website for the Aura 15. Still strange.
Webcam and mic
I can not tell you anything about the mic. I would never attend a meeting with a built-in laptop mic. I have a decent wireless headset for zoom and gaming.
The webcam is not good.
I was working outside in the shadow while I and my girlfriend were house-sitting her parent's house for a week.
The colors are pretty off depending on the light situation.
But at least the is a camera and I am happy it is placed on top of the screen!
Weight and size
I am mostly using this guy at home on the desk closed. About 80-90% of the time I would say.
The other times I am using the laptop on the couch, in the office, and like now in the park writing this review.
So weight and size are not that important for me.
When I go somewhere else it fits in my backpack and bike pack without any problems.
You can definitely feel the 1.64kg though.
Just for completion here are the dimensions:
Here are the dimensions:
15.6" laptop (39.62 cm)
Length: 360 mm
Width: 239 mm
Height: 19,9 mm
If you sit in one of those 2 seat rows in a typical German train you might have problems opening the laptop.
That is because the seat in front of you is to close to open the lid in a comfortable angle.
If you travel a lot and especially train, I think a smaller form factor would be better but that is preference and use case dependent.
Sound
The speakers are bad. It is even hard to listen to a YouTube video or something else because the volume is too low. Additionally, the sound quality is not good.
I am using a headset every time.
Would be nice to have some decent speakers in here. I guess there should be plenty of space. But I am not an expert on building a laptop.
Screen/display
The 15.6" non-glare screen has an IPS panel. I am currently sitting in a park writing this review in direct sunlight. The brightness is around 70 % brightness setting and good to use. The viewing angle is also really good because of the IPS.
I can not tell you anything about the color because I have no clue about this topic and did not find the time and reason to care yet. Also, I just work on this laptop. No media consumption other than conference talks on YouTube for research.
In the office, I really like the 15.6". I basically get a second screen for slack and other things.
In couch mode, I like the extra screen real estate compared to a 13" model. It is 1080p and perfectly fine for browsing and coding at the same time.
I higher resolution would have taxed the battery and you would need to enable scaling anyway to the point where everything has the same size as native 1080p.
And I think scaling is still not a solved problem on most distros yet.
Ports and connectivity
As stated before, I am working from home. Here I have a height-adjustable desk, a really good office chair, and two 27" screens with 1440p resolution.
My laptop needs to connect to those 2 screens without any DisplayLink driver. DisplayLink docks do work, but on Linux, it takes a lot of power, because a lot is done in software. Therefore high CPU usage, therefore more heat, more fan and more loud. You get the idea.
Leaving me with 2 options:
A laptop with a thunderbolt port and a thunderbolt dock which is Intel only at this point (during that time)
A laptop with USB-C with DisplayPort and another port like HDMI
Since I have chosen the Tuxedo Aura 15 I get the following ports:
1 x USB 3.2 Gen2 Typ C Full-Featured (Displayport 1.4 (max. 7680 × 4320@60Hz), Power Delivery DC in Charging-Function - Needs at least 20V/3.25A USB-C power supply)
1x USB 3.2 Gen1 Typ-A
2x USB 2.0 Typ-A
1x HDMI 2.0 with HDCP (4k UHD@30Hz (Linux) | 4k UHD @60Hz (Windows))
1x Gigabit LAN RJ45
1x 2-in-1 Headphone/Headset (Headphone & Microphone)
1x Kensington Lock
1x Card-Reader (micro-SD)
1x SIM card slot (LTE; Size: Mini-SIM)
1x DC-IN/power connection (also via USB-C*)
I have plenty of ports. I do not need a dongle for the office which is pretty cool. The mouse and keyboard can be plugged in in the 2 x USB 2.0 ports. Most webcams do fine at USB 2.0 as well.
At home, I just have a dongle that has the following ports:
Ethernet
HDMI
USB-C power in
USB 3.whatever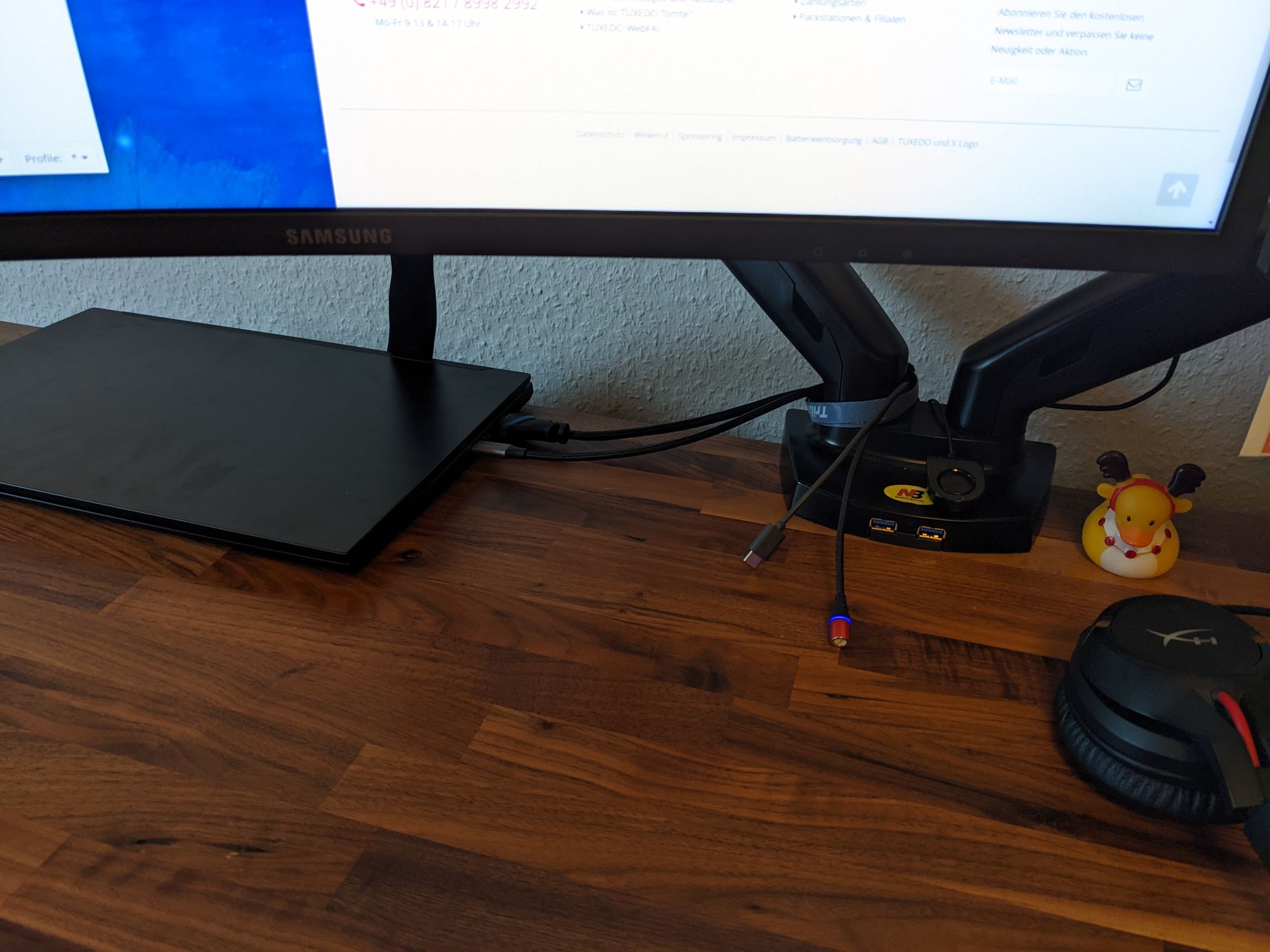 I can just plug in this dongle and the HDMI from my second screen and I am good to go. And the best part: I do not need to use the utterly bad DisplayLink driver!
My peripherals like a Logitech mouse and keyboard combo (one Logitech USB dongle), a wireless headset (another USB dongle), and a USB webcam are plugged in into a USB 3.something switch.
This switch then connects to the USB dongle for the laptop an my PC.
With a click of a button, I can switch all my USB devices between the laptop and my gaming PC. Neat!
Except for my headset donlge. For some reason, this does not work reliably on the USB switch. That is a rabbit hole for another day. Let's focus, I need to finish this review.
Performance, cooling, and fan noise
This machine can take a punch!
Finally, I can use zoom with screen sharing, slack, Chrome with Jira and google docs, some IDE like PyCharm, VS Code, or Android Studio without getting screamed at all the time from the fan! All that with the 2 x 1440p screens!
And all that without waiting for 5 - 15 seconds to open a ticket in Jira.
All in all, I am satisfied with the performance.
Fan noise is way better than before. There are times where the fan is audible really heavily. That is every morning when I wake up the device and DejaDup is doing a backup of my home directory. Whenever I build a flutter app there is quite a ramp up as well.
During zoom meetings, the fan is audible but nowhere near 100% like my old Dell. Since I am using a headset when using zoom I actually had to check if the fan is audible. It is a normal over-ear headset without any notice canceling. With the Dell I could hear my laptop every time, even with the headset.
I am still playing with the fan curves and performance settings in the Tuxedo Control Center. I change the settings to make the laptop almost absolutely silent, but then the performance will tank. Still searching for the perfect balance.
The part with the performance was the most troublesome on my old device. I am glad this laptop can be used for work and performance is not an issue.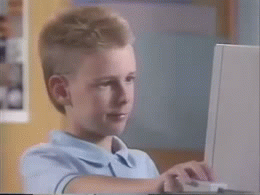 Tuxedo Control Center
The Tuxedo control center lets you tweak a lot of things and put them into profiles.
If you want to know everything it can do head over to their site: https://www.tuxedocomputers.com/en/TUXEDO-Control-Center.tuxedo
I have set up 2 profiles for myself.
One is for desktop usage:
deactivate the webcam. That way zoom does not pick it up as the first device.
Set the system profile to entertainment
Fan setting to quite
Surfing profile:
Only using 4 cores
system profile to power save to save some battery
Fan setting to silent
The system profiles are explained here: TUXEDO Computers devices are delivered with Premium BIOS
You can also interact with the fan curves directly instead of using predefined settings.  
Do not enable maximum performance in the control center
DO NOT, I emphasize, DO NOT enable maximum performance.
This will lock your CPU clock speed and you will waste so much energy and also impact cooling since the cores are clocking way higher than needed. I was playing around with that and wondered why the laptop suddenly started to use the fan early than before.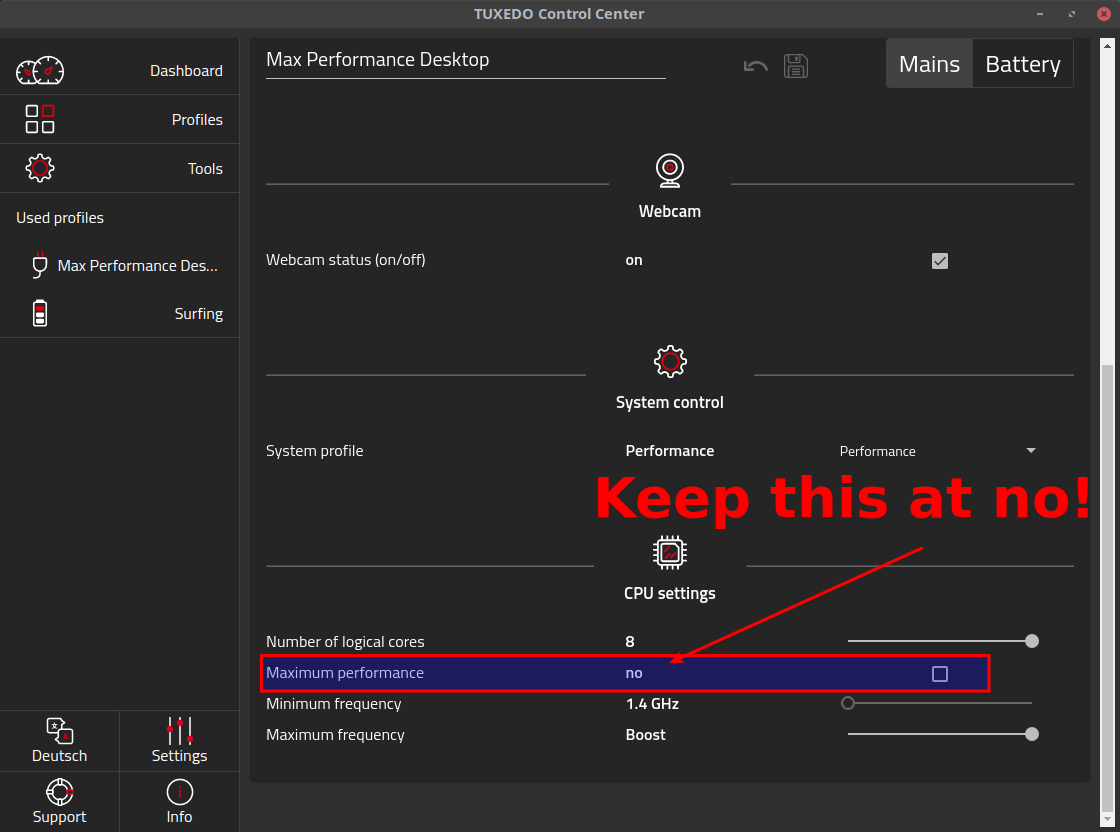 BIOS
Tuxedo is providing its own BIOS. You can download new BIOS updates when you log in to your account.
You can then see your devices and updated BIOS, EC, and manual.
The only thing which looked special to me is the Flexicharger option: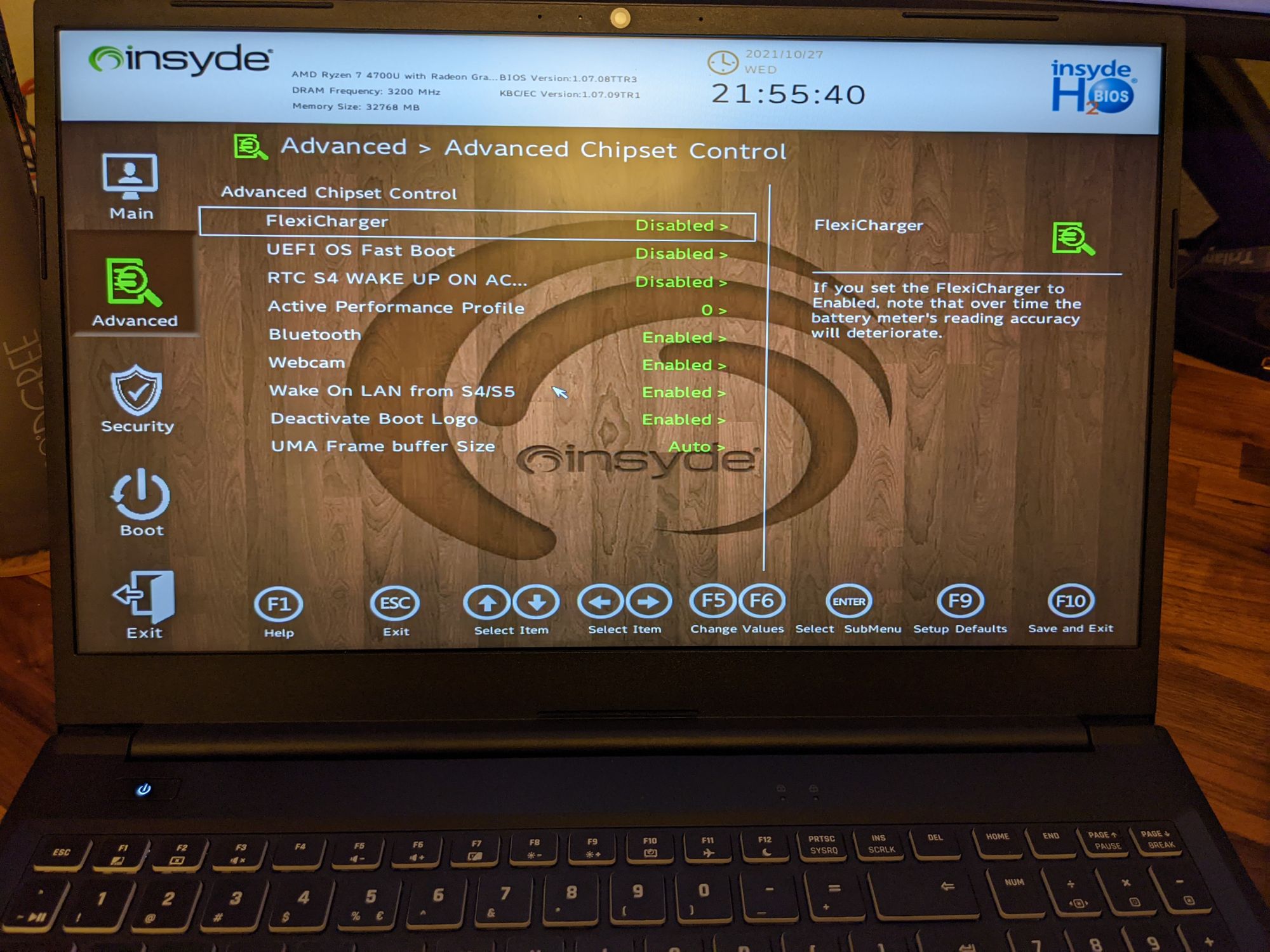 You can configure for example to start charging the battery at 40 % up to 80 % to get a better life for your battery. Useful, when this is anyway almost always connected to the power cord.
It is not in the picture, but I will enable this setting right now since I am connected to power almost always. Even on the couch, we have a USB-C power supply around.
Maintenance
I can not tell you more than Tuxedo does:
Maintenance: After opening the base plate via a series of screws, all components and fans are easily accessible, easy to maintain, clean and replace.
Unfortunately, these days is something special. Seeing even the trend of soldering SSDs to mainboards. Anyway, I do not have any experience with replacement parts yet. Let's hope we do not need them.
One cool extra thing is, that the battery is not attached with glue, but with screws. That makes a replacement pretty easy! I like that.
Conclusion
In the end, we ended up buying this laptop for my work and I am happy ever since.
I really like this laptop. The performance and low fan noise are nice. Especially compared to my old laptop.
This purchase fully satisfied my needs and I do not complain anymore every hour of the day about my workhorse.
Nah, I still do, but these are typical Linux desktop things like systemd networkd not working properly with open-vpn pushed DNS servers, yadda yadda yadda.
I hope you could get the context in which this laptop is used. This is often missing in reviews and that is what I often miss. Specs alone just say nothing about the laptop.
I am surprised by how much work it is to put all this together. Kudos to the people doing all these reviews! It is not easy, I tell you that much. Otherwise, I would have published this way earlier.
---
Extra knowledge about laptop manufactures
I learned that Tuxedo among many others does not build its own laptops.
Instead, there is a company named Clevo which is building these barebones. Tuxedo and others choose the barebone, configure storage, CPU, and provider their own BIOS and embedded controller (EC). That EC is responsible for things like keyboard inputs, charging the battery, and controlling fans. You can find more about BIOS and EC on the Updating EFI BIOS & EC page.
This is also the reason that you can buy the almost same laptop in regards to hardware from system76, like the Pangolin but still have a different experience with your OS. System76 is a bad example since they also support Linux. But there are others using Clevos barebones as well:
Schenker
system76
maingear
origin pc
XMG
---
This was helpful? Or did you even enjoy this? Feel free to share this wherever you like.
If you want to keep up with my content you can subscribe as well. You will get the article via mail.