Moving and Internet Chaos
Moving to a new home and chaos with internet in Germany.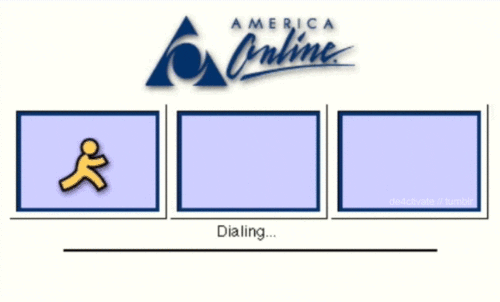 Hello fellow nerds 👋
I have moved from my small apartment in the city to a house in a rural area. Almost double the amount of space and also double the amount of rent. Hey, what great timing with energy prices and inflation going crazy, etc. But we searched for at least 3 years and finally found something suitable for now.
Searching for a new place is time-consuming. But oh my moving as well. Even more so I would say.
Internet Chaos in Germany
I wanted to ask my current provider NetColgone to move the contract to the new location. We checked 3 months ago if that was possible. In theory yes but in detail, lets see.
We could not tell the date when we were moving 3 weeks before the actual moving date . It was complicated since we helped someone in need to get our flat and our old kitchen and other things. Otherwise, we would be forced to throw out the kitchen and they would buy a new one which is ridiculous, even if they get the same apartment.
Those 3 weeks apparently are not enough for switching the address. NetColgone could not switch on our moving date or even near it. We moved on the 12th of October. They only could offer the 25th of October. That is ridiculous. I asked what the problem is and they said that they can not get an earlier date.
I am like 🤨: Isn't this your line?
NetCologne: No.
Me: Who owns the line?
NetCologne: Telekom.
Me: Okay, then I will ask Telekom directly.
Telekom could connect me on the 14th of October. That is 2 days without internet, but that is better than 13 days.
DSL pricing is nuts
So the maximum I can get at the new place is 250 Mbit up and 40 Mbit down. VDSL with Supervectoring. Whatever. So I checked pricing.
NetColgone:
39,95 Euro per month
958,80 Euro for 2 years
Telekom:
19,95 Euro for the first 6 months
54,95 Euro for the remaining 18 months
Total of 119,70 Euro + 989,10 Euro = 1.108,80 Euro for 2 years
Just for comparison: 46,20 Euro per month.
Nobody ever wants to have these dumb 6 months "cheap" but the remaining months expensive pricing. I know it works on a lot of people but it is just a bullshit strategy in my opinion. It is not consumer friendly. In my opinion that is consumer manipulation.
Telekom + 100 Euro online Bonus:
But for some reason, you get 100 Euros back from Telekom when you sign up online.
908,80 Euro for 2 years
37,87 Euros per month
Already worth it.
Telekom + 200 Euro online Bonus + Check24 Bonus:
However, there was another deal. For some reason, you get another 200 Euros off from Check24 if you sign the contract with their platform and provide proof with a recipe.
708,80 Euro for 2 years
29,53 Euros per month
The difference between 708 Euros against 1108 Euros is nuts. Obviously, I choose the deal. I really dislike this kind of deals but that is a significant saving right there.
You would think this is it? Nope. More hassle to come along.
Finding the right address
I got an SMS that my internet connection will be available automatically on the 14th of October. Fine with me. Still, I wonder why the 12th of October is not possible when there is no need for a technician but who am I to judge?
That did not work out at all. So I called Telekom support which was really good. I mean like really good. We figured out with the info of my landlord that my actual address is not the address for the internet connection. It is a different house number for whatever reason. So I told them that and they send out a technician on 15th of October on a Saturday, a day later.
I showed him my utility rooms where the internet is supposed to be and then the other house where the internet, electricity, heating, and everything else is for all the tenants in this housing complex.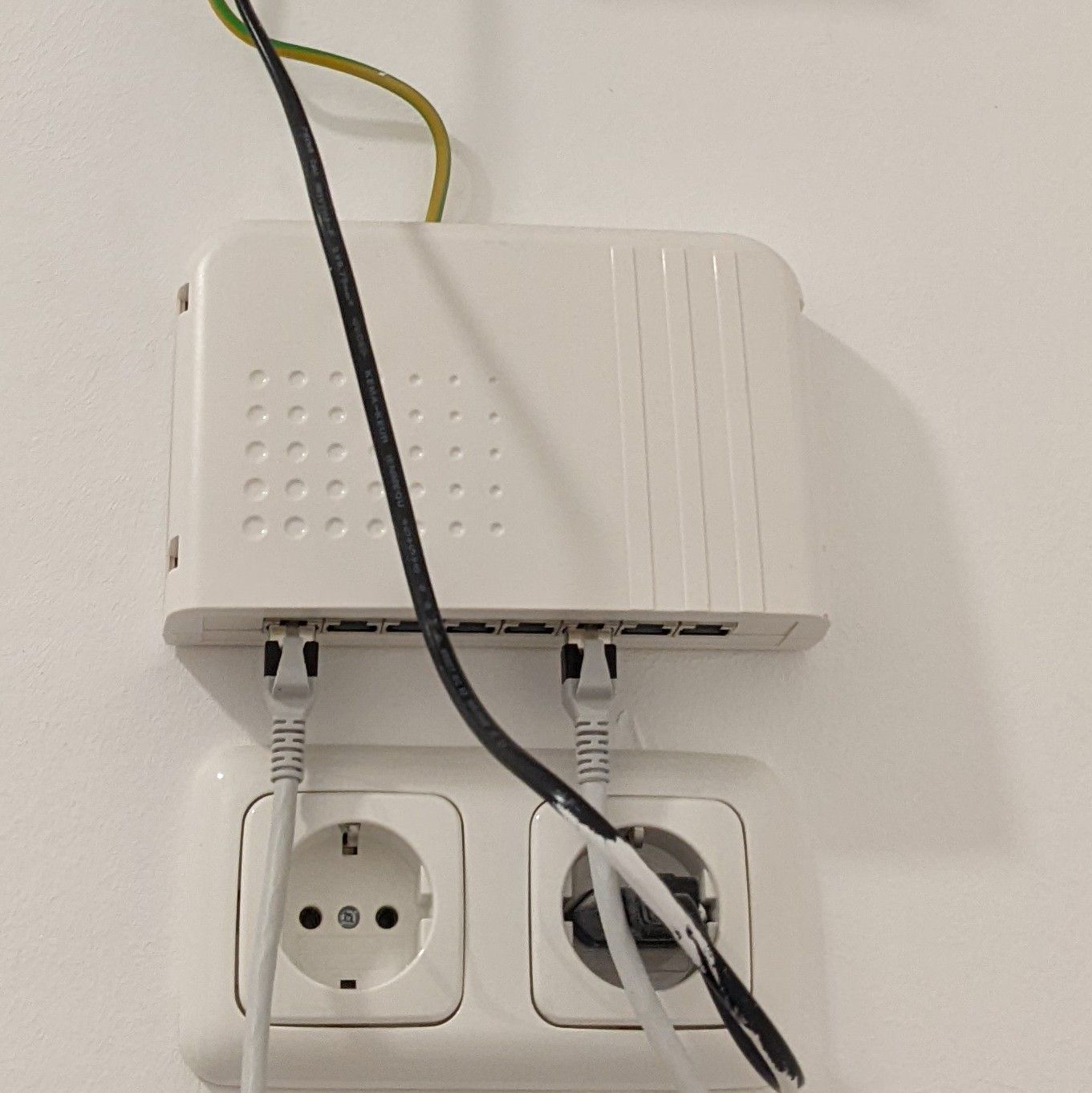 As you can see the termination box in my utility room was amazing. No labels nothing and just plain ethernet cables.
Why do you leave the 5th one empty instead one on the sides?
Also, I just have 4 rooms wired with ethernet. Why are there 7 cables running into my house? I think 5 makes sense because one of them needs to be the DSL connection but that's still 2 extra?!?!?!
Anyway, the Telekom technician went to the tech room, I went to the unlabeled punch panel and we got on the phone and hat to test every port to find the DSL connection.
It was the 6th cable that had the DSL signal... Not the one on the left, not the one on the right. No. It was randomly the 6th.
Unfortunately, I left the technician alone for a few seconds, and then he marked the port with a permanent marker. Later I just created labels for me and the next tenants.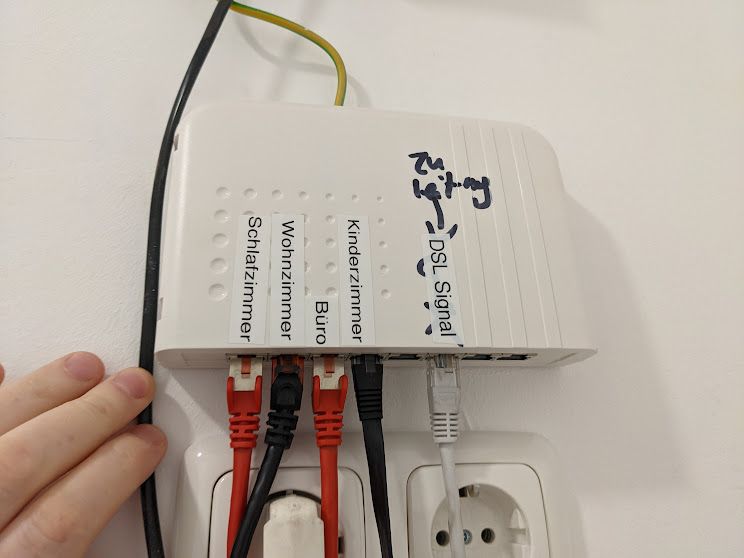 So now I got Internet, nice. That should be it, right?
Nope 😮‍💨
Finding the bottleneck
So I plugged in my router and did some speed tests. Depending on where used the router the speed test was just about 100Mbit level.
So I connected one device to each room and connected all cables from the utility room to my router to check all available links. And look at that, one of the lines was just getting a 100Mbit link and all others got 1Gbit.
The living room had the 1Mbit link where I had my Home Assistant Blue running. I installed the speedtest integration for Home Assistant and let that run for a couple of days.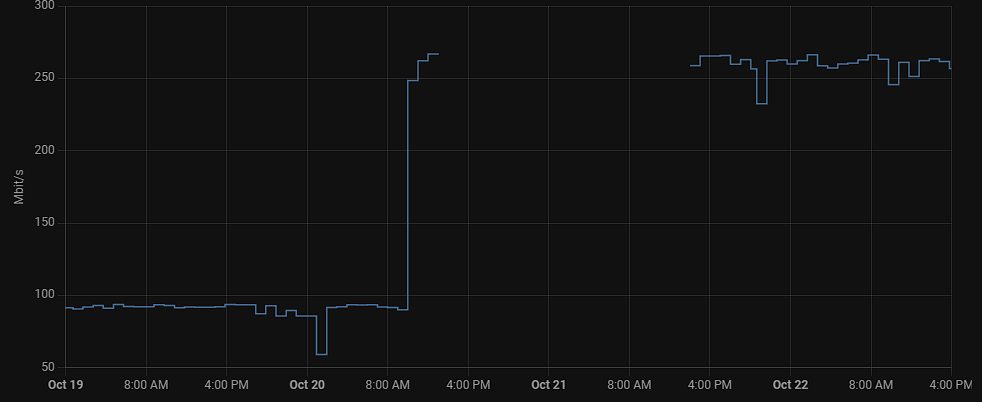 I called the electrician to check on that matter. The electrician could find the error pretty fast. It was just 1 bad punch down. After that, I got a 1 Gbit link and could also use the full potential of my internet connection in my living room.
Finally, I got internet!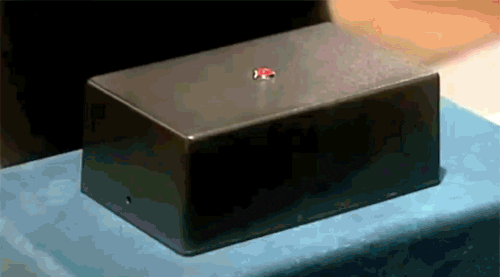 ---
The last few weeks were pretty time-consuming. But now we have slowly settled in. Still need to get used to the area. Getting to know the bikeways to the next grocery stores, doctors, etc. That takes time.
But my home office experience has already improved a lot.
Until the next time and have a great week 👋